CS CENTER
Consultation time, 10:00 ~ 17:00

LUNCH TIME, 13:00 ~ 14:00

Closed information, Saturday / Sunday / public holidays

If the call volume is high or

the consultation hours have passed,

please use the inquiry board.
Notice
Read
2020 Thanksgiving Holiday Notice
Name : Styleonme Hits : 1448
Dear Customers!!

Thank you for supporting Styleonme.

We'd like to inform you that 2020 Thanksgiving holiday ("Chuseok" in Korean) will start from Sep 30 to Oct 4, 2020.
During the time, Shipping and CS center will be closed and will resume work on Oct 5, 2020.
Please also note that offices will be closed on 9th October, 2020 to celebrate Korean Language ("Hangeul" in Korean) day.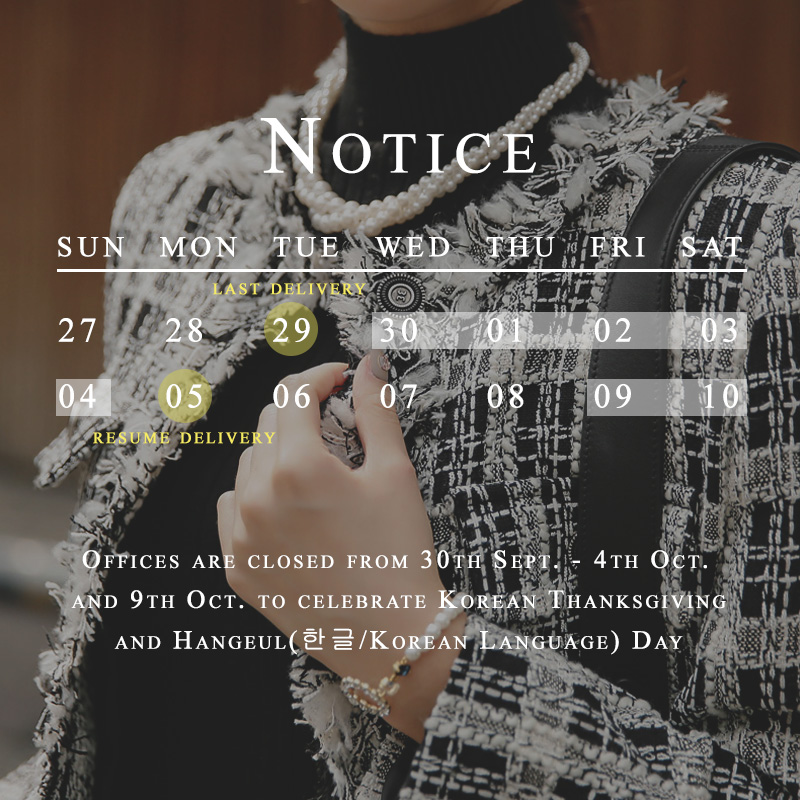 Please leave a message on Q&A board or email us to styleonme1@styleonme.com if you have any requests and inquiries. We will get back to you as soon as we get back.

Thank you very much and happy Chuseok!!

Styleonme

List of posts

| No. | Content | Name | Date | Hits |
| --- | --- | --- | --- | --- |
| | | Styleonme | | 20 |
| 131 | | Styleonme | | 19 |
| 130 | | Styleonme | | 154 |
| 129 | | Styleonme | | 142 |
| 128 | | Styleonme | | 146 |
| 127 | | Styleonme | | 226 |
| 126 | | Styleonme | | 246 |
| 125 | | Styleonme | | 128 |
| 124 | | Styleonme | | 473 |
| 123 | | Styleonme | | 2029 |
| 122 | | Styleonme | | 623 |
| 121 | | Styleonme | | 889 |
| 120 | | Styleonme | | 942 |
| 119 | | Styleonme | | 2115 |
| 118 | | Styleonme | | 778 |
| 117 | | Styleonme | | 984 |