CS CENTER
Consultation time, 10:00 ~ 17:00

LUNCH TIME, 13:00 ~ 14:00

Closed information, Saturday / Sunday / public holidays

If the call volume is high or

the consultation hours have passed,

please use the inquiry board.
Notice
Read
Site Maintenance
Name : Styleonme Hits : 1796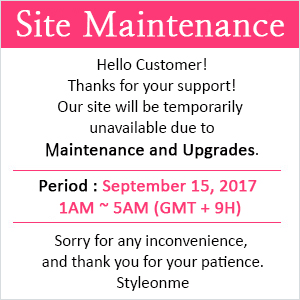 Hello Customer!

Thanks for your support!

Our site will be temporarily unavailable due to Maintenance and Upgrades.
Period : September 15, 2017 1AM ~ 5AM (GMT + 9H)
If you have any problems navigating our site,
please contact us at styleonme1@styleonme.com

Sorry for any inconvenience, and thank you for your patience.

Styleonme
List of posts

| No. | Content | Name | Date | Hits |
| --- | --- | --- | --- | --- |
| | | Styleonme | | 151 |
| 76 | | Styleonme | | 3168 |
| 75 | | Styleonme | | 2175 |
| 74 | | Styleonme | | 1909 |
| 73 | | Styleonme | | 2093 |
| 72 | | Styleonme | | 3369 |
| 71 | | Styleonme | | 1813 |
| 70 | | Styleonme | | 3164 |
| 69 | | Styleonme | | 2194 |
| 68 | | Styleonme | | 3741 |
| 67 | | Styleonme | | 1845 |
| 66 | | Styleonme | | 2240 |
| 65 | | Styleonme | | 1796 |
| 64 | | Styleonme | | 1262 |
| 63 | | Styleonme | | 1356 |
| 62 | | Styleonme | | 2018 |